Please telephone the shop to order any item that appears on the following list subject to availability.  We will dispatch telephone orders within 24 hours or advise accordingly. 
New Item now in Stock

Gypsum Plaster Busts by Modern Souvenir Co
Figure painters have traditionally looked to Metal or Resin as a medium for their figures or busts, with the expected high price that goes with it.  Plaster is a medium often encountered in diorama bases, buildings or groundwork.  It may be thought of as an unsuitable product for detailed figures, yet historically Plaster of Paris is the preferred medium of sculptors' and artist's casting sculptures and reliefs.
Salisbury Model centre stocks a series of British Heritage subjects, not just military that are about 13cm high, I approximate this at 1/9 scale.  The plaster used is British fine Gypsum Plaster which gives a hard surface that captures detail well and when rubbed does not give of any powder residue.  The best thing about being made from Plaster is the difference in price from what you'd expect to pay in Resin. Even a single 1/35 figure in resin is about £10.00 with larger pieces going for £35 to £40 pounds. These are much more affordable at £19.99. As well as the head bust, each one has a series of cameos arranged around the base that illustrate the life and times of each figurehead. The Duke of Wellington for example has tiny soldiers of the 95th, horse and canon, a furled flag and guards. The final supporting base has an inscription.
These busts take acrylic and enamel paint very well and I have no doubt that oils will be suited too.  There are no painting guides included so some research is required but as all the subjects are famous there is no shortage of reference material.
 I chose Wellington to paint and after checking for defects no air bubbles found, no mis-cast areas. I primed the piece in Army Painter black except for the face which I primed in Vallejo Air Mahogany brown. I built up layers of colour using Vallejo Basic flesh, Radome tan, white, bright red and grey all applied through my airbrush.  The bright red was also airbrushed in layers to get tonal variation for his jacket. The final airbrushed area was an over spray of dark grey into the recessed areas of hair, then with a little maskol on the temples, a light blast of white to show some greying of his hair.
The remaining paint work was all done by brush.  The cordage was painted Humbrol enamel gloss Service Brown , then overpainted with brass followed by gold to give the lighter high points.  Army painter Dark tone Ink shade was lightly touched along the cordage to neaten any lines, this was repeated on his collar's gold embroidery.  Fine brush work gave Wellington some wrinkles around the eyes and frown lines. Very light stippling darkened his jaw line and side burns as well as to darken the eye brows.  The eyes were done in dark green with black pupils.  Unlike resin models these busts have the iris and pupil sculpted which ensures no 'boss eyed' look.
 The range includes,  Queen Victoria, Queen Elizabeth the II, Hadrian, Sherlock Holmes, Queen Elizabeth 1st, Churchill, Duke of Wellington, Nelson, Brunel and William the Conqueror. Plus a number of others with new items released approx every 6 months.  Each one is £19.99.

VALUE AIRBRUSH SET
I've always been cautious about low priced Airbrush set ups but after testing the EXPO set for a while and getting good results I am happy to offer these sets along side our IWATA items. For £79.95 you get everything you need except paint and thinner to get you started. Read a full review on Kitmaker Net by clicking the review link below.
TRACK CHORES.
Some modelers love assembling individual track links, others hate it and would rather replace with Vinyl.  SMC can offer help with both as we have an extensive range of both individual plastic replacement tracks and replacement Vinyl band track too.
GREAT NORTH ROADS

A recent article on Armorama focusing on the excellent Great North Roads (GNR) plaster diorama buildings that are stocked but SMC. These heavy items are available on line, but incur steep postage prices due to weight.


WE SELL WOODEN BASES, in various sizes, MDF and real wood, Varnished and plain. Don't Forget:-
LIFECOLOR BOX SETS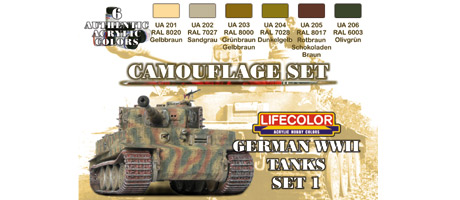 The most accurate way to finish your model, 'lifecolor' sets are matched to the exact paint shades used on the real vehicles.  When thinned these acrylics will airbrush beautifully laying down thin coats quickly, used with a conventional brush 'lifecolor' goes on thinly so no detail is lost but light colours will need the application of two coats. The thin consistency means brush marks are almost non-existent. The German set illustrated above has RAL colours, with the designation as used by the Reich Ministry when ordering the employment of colour schemes on German vehicles.  
German WWII Tank set 1 includes:
UA 201 Gelbbraun RAL 8020
UA 202 Sandgrau RAL 7027
UA 203 Grunbraun/Gelbbraun RAL 8000
UA 204 Dunkelgelb RAL 7028
UA 205 Rotbraun/Schokoladen Braun RAL 8017
UA 206 Olivgrun RAL 6003
Other sets use colours matched to FS numbers- Federal standard, the US paint colour designation.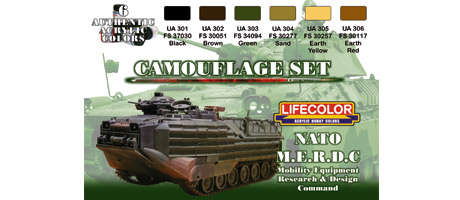 This set  is ideal for modern NATO vehicles and includes:
UA 301 Black FS 37030
UA 302 Brown FS 30051
UA 303 Green FS 34094
UA 304 Sand FS 30277
UA 305 Earth Yellow FS 30257
UA 306 Earth Red FS 30117
Other sets available in store and to Order.
LATEST ARRIVALS IN STORE
19 Nov 18 Summary of recent arrivals:
From Revell- 03275 1/35 King Tiger with full interior £59.99.   03272 1/35 Hetzer £29.99.  03892 1/32 Tornado Gr.1 in Gulf war markings £49.99.   03902 1/72 (ex academy) PBY-5a Catalina flying boat £29.99
From Metcalfe 00 Settle Carlisle Railway goods shed. £24.00.   Industrial unit £13.00.   Goods yard crane £6.50.
In N the same kits Goods Shed £14.00, Industrial unit £7.50 and Crane £5.00. Both cranes include fine chain. Restocks of other Metcalfe models in range.
Model bus kits from Peco - Modelscene. 00 (1/76) Leyland National Single decker £9.95 in varied liveries.  Leyland Olympian double decker £10.75
MIG powder pigments £4.49
30 Oct About time we had a railway update. New Engines in store: R3615 Peckett Green 506, RRP £99.99 our price £87.99. N Gauge Class 66 DRS Plain Blue Compass livery (re stock) RRP £134.95 our price £115.00.
R3633 Rebuilt Patriot by Hornby £169.99 our price £157.99. New digital coaches to allow lights to be switched on/off to run on you DCC powered 00 layout, 39.677DC RRP £79.95 our price £68.75. Lots of new ready finished N gauge buildings.
22 Oct MALIFAUX arrivals
Prospector £15.99, Bultungin £15.99, Austringer £15.00, Carrion Emissary £31.99, Terror Tots (3) ££11.99.
10 Oct 18 Hornby/ Airfix Arrivals
A025120B 1/48 Messerschmitt Bf109e-4 £20.99
A09188 Gloster Meteor FR.9 £36.99
R3550 Hornby 0-4-0 Peckett 'Lilleshall co' RRP £99.99 our price £87.99
A2009 Handley Page Victor K.2
5th Oct Revell arrivals:
HMS Hood gift set 05693 £19.99
03894 1/72 Yak-3 £9.50
03309 German A4/ V2 ocket 1/72 £12.99
03274 Russian Armata MBT £36.99
03919 Dassault Mirage III 1/32 £54.99
22 Sept 18
Modelcollect 1/72 Kits:-
UA72107 'Fist of war' Walking E75 panzer £16.49
UA72034 Russian BMP3 IFV. £16.49
UA72131 T-72 SIM1 £16.49
UA72009 TOS-1 Flame thrower system on T-72 Chassis £13.99
UA72069 NATO M1014 (MAN) tractor unit with cruise missile launcher. £37.99
17 Sept ICI Janus 0-6-0 Engine 00 Scale £99.95
N Gauge Sunflower kits by BUSCH £4.60
AIRFIX 1/48 Gloster Meteor FR.9 £36.99
ICM King of the night ( 1/16 figure that looks very similar to the King of the white walkers in Game of Thrones) £22.99
Oxford Rail BUSBY WEST KENSINGTON 5 plank £10.95
Oxford Rail COPPICE CANNOCK CHASE £10.95
New Oxford diecast vehicles.
10 Sept
Tamiya Type 16 105mm 8 wheeled vehicle in 1/35 scale £49.99
Academy new tooled Panzer IV with 3D zimmerit Decals £38.99
Early Sept arrivals.
1411 Italeri 1/72 A-7E Corsair II with 4 marking options £17.50.
Zvezda A-50 'Mainstay' Russian AEW 1/144. £29.99
A08013A Airfix 1/72 B.III Avro Lancaster £30.99
Amati 1/100 wooden boat kit, ' Bluenose' 1921 Schooner 54cm long £89.95
35254 Soviet Tank Crew 1/35 scale in heavy duty uniform. 4 figures £10.99
35091 Soviet Combat Engineers. 5 figures in box engaged in mine clearing or mine laying. £10.99
Eduard L-29 Delfin 1/48 scale. £24.99. 2 marking options, one of which is 'Tiger meet'.
1/72 Colonial Wars figures. 6187 British Infantry and Sepoys. £8.99
ACE 1/72 Saracen APC. £16.30
Best catch up after being away.
Arrivals while shop was open, but I was away. 12 - 26 August.

OXF 76CHV001 Red Combine harvester by Oxford diecast in Rail scale.
OXF 76JCX001 JCB 1980's 3CX backhoe.
IBG 1/35 BMW with side car ( civil version) £10.99
Modelcollect 1/72 WWII E100 Jagdpanther £16.49
ICM 1/48 Condor Leigion version of HS126a-1 with bomb rack. £20.99
Valom 1/72 RB-45 Tornado in RAF markings £43.80
Restocks of Toon Lancesters and B17 (£11.99)
CB35133 1/35 Krupprotze with Pak 36 £36.99
Bronco 1/35 CB35039 DFS-230B-1 German Assault Glider £45.60.
Italeri re-issue IT2681 F-5E Lockheed Lightning £29.99