Please telephone the shop to order any item that appears on the following list subject to availability.  We will dispatch telephone orders within 24 hours or advise accordingly. 
New Item now in Stock

More New Ideas from
LIFE COLOR

New Powder and Color sets for Algae and Lichen. Apply fixer fluid with a brush to the areas onto which you wish to stick the coloured powder. This can be done by dusting onto the Fixer or mixing the powder into the fixer. Repeated applications allow to obtain large volumes of vegetation. The Fixer fluid can be diluted with water. All Powders can be mixed to obtain a wider range of tones.
Algae set includes:
POW 05 Luxuriant Green - Powder
POW 06 Full-blown Green - Powder
POW 07 Blight Plant - Powder
POW 08 Dried Plant - Powder
FF 04 Gloss Yellow Green - Fixer Fluid
FF 03 Gloss Dirty Green - Fixer Fluid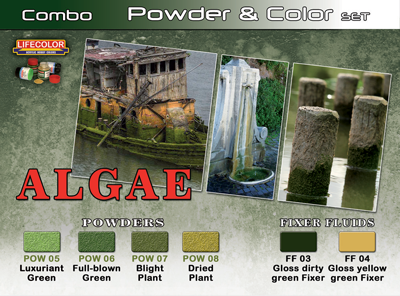 LIFECOLOR BOX SETS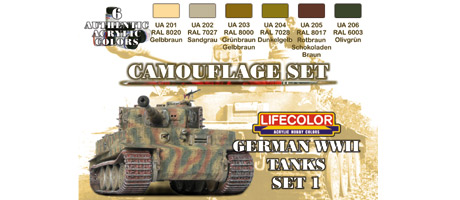 The most accurate way to finish your model, 'lifecolor' sets are matched to the exact paint shades used on the real vehicles.  When thinned these acrylics will airbrush beautifully laying down thin coats quickly, used with a conventional brush 'lifecolor' goes on thinly so no detail is lost but light colours will need the application of two coats. The thin consistency means brush marks are almost non-existent. The German set illustrated above has RAL colours, with the designation as used by the Reich Ministry when ordering the employment of colour schemes on German vehicles.  
German WWII Tank set 1 includes:
UA 201 Gelbbraun RAL 8020
UA 202 Sandgrau RAL 7027
UA 203 Grunbraun/Gelbbraun RAL 8000
UA 204 Dunkelgelb RAL 7028
UA 205 Rotbraun/Schokoladen Braun RAL 8017
UA 206 Olivgrun RAL 6003
Other sets use colours matched to FS numbers- Federal standard, the US paint colour designation.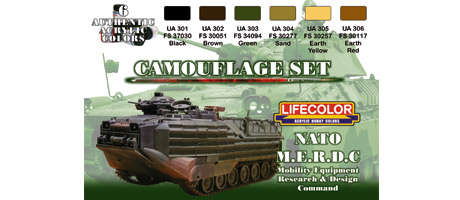 This set  is ideal for modern NATO vehicles and includes:
UA 301 Black FS 37030
UA 302 Brown FS 30051
UA 303 Green FS 34094
UA 304 Sand FS 30277
UA 305 Earth Yellow FS 30257
UA 306 Earth Red FS 30117
Other sets available in store and to Order. 
VALUE AIRBRUSH SET
I've always been cautious about low priced Airbrush set ups but after testing the EXPO set for a while and getting good results I am happy to offer these sets along side our IWATA items. For £79.95 you get everything you need except paint and thinner to get you started. Read a full review on Kitmaker Net by clicking the review link below.
TRACK CHORES.
Some modelers love assembling individual track links, others hate it and would rather replace with Vinyl.  SMC can offer help with both as we have an extensive range of both individual plastic replacement tracks and replacement Vinyl band track too.
GREAT NORTH ROADS

A recent article on Armorama focusing on the excellent Great North Roads (GNR) plaster diorama buildings that are stocked but SMC. These heavy items are available on line, but incur steep postage prices due to weight.


WE SELL WOODEN BASES, in various sizes, MDF and real wood, Varnished and plain. Don't Forget:-
LATEST ARRIVALS IN STORE

09 May 18 Hornby R3516 Limited edition (500) 'The Final Day' GWR King Class 'King George III' RRP £190.99 our price £169.99
R6839 Ex SR BR Cattlewagon £22.99
R4802 Stanier 68' Dining/ restaurant car £50.99
R4803 Stanier period III 1st class corridor. £50.99
R4804 Stanier period III 3rd class corridor. £50.99
R4805 Stanier period III Brake 3rd class corridor. £50.99
Airfix RAF Centenary set £29.99
3 May 18 Re-stocks of Wider's textured earth ( of which I am a fan)  all at £3.95
Darkstar Pigments £2.50
Moebius 2001 Space Clipper £24.99
Moebius Penguin from 1960's Batman £44.99
Moebius Riddler from 1960's Batman £44.99
Tamiya Centurion 1/35 scale limited re-issue £29.99
Tamiya Tiger 1 late with Crew figures (called Ace crew so probably represents M Wittmann) £34.99
Plastic Soldier Company 1/72 Valentine infantry Tanks £18.95
12 April New Kit Line
Aoshima plastic kits. In store or due soon are the following
1/700 ships.
HMS Victorious, HMS Illustrious, HMS Hermes at £29.99. USS Washington £17.99.
1/24 Cars.
Nissan Skyline custom 'ken and Mary works' 2 door, (£29.99) Skyline GT-R '02 with working suspension, Toyota Hilux '94 twin cab, Subaru Sambar 4WD high roof van all at £24.99
1/24 K.I.T.T from Knight Rider. Season 1 and season 4 available. £34.99
Various Thunderbird models and deformed mini kits.
1/12 Motor bikes at £29.99 each. Yamaha 2004 Vmax, Yamaha SR400 1996.
23 March 18
Dapol 2D-022-007 Class 68 in N gauge with DRS livery. RRP £141.00 our price £126.50
22 March
31-663 Class 47/0 'Herbert Austin' Railfreight Distribution 00 loco RRP £159.95 our price £138.95
32-304A GWR Collett Goods 2251. RRP £114.95 our price £98.95
Roto Wheel cleaner 00/H0 £29.00
16 March Revell arrivals
TECHNIK 1/72 Flower Class Corvette.
1003 parts, 85cm long. The new elements provide navigation lights, interior cabin lights and search lights as well as motorisation of the ship's radar powered by 4 AA battries and simple plug conectors. £178.99 with options for HMCS Snowberry and HMS Campanula.
03906 1/48 Sopwith Camel £19.99
03907 1/48 British S.E.5a £19.99
Mr Almighty Clips £10.99. Useful device to hold parts while painting.
08 MAR 18
More great Locomotives in 00 from Bachmann. The Freightliner engine is Digital Sound and not suprisingly named 'Bond' due to its 57-007 running number.
32-735ds class 57 freightliner RRP £239.95 our price £208.50
Also arrived
32-992 BR Yellow Wickham trolley RRP £89.95 our price £78.25
35-076a Class E4 0-6-2 Southern Green RRP £129.95 our price £112.95
31-435 Midland Class 1F BR Black RRP £99.95 our price £86.95
07 Mar 18 MPC 1/18 Pontiac Firebird with removable T Bar roof £62.99
Special Hobby 1/72 BV 155v-1 £14.65
Riich 1/72 M109A2 £19.99
Hornby R3577 0-4-0 Diesel Sentinel 'Graham'  RRP £74.99 our price £66.99
R3552 GWR Grange Class 'Aberporth Grange' RRP £155.99 our price £138.49
27 Feb 18 Dapol 00 loco's
4d-022-011D 'Oxford Flyer' Chiltern Rail CLASS 68 digital locomotive RRP £180.50  our price £160.50
4d-015-004 BR Blue Class 122 Rail car. RRP £145.00 our price £130.50
4d-002-008 Class 68 DRS scheme 'Astute' RRP £154.95 our price £134.75
4d-009-001 Cass 121 Bubble car in BR green RRP £145.00 our price £130.00
15 Feb 18  Bachmann 00:-
32-250a Austerity 2-8-0 'Major-General McMullen' LMR Blue.  RRP £159.95  out price £137.50
32-983 Class66 '66779 Evening Star' GBRf. RRP £159.95  out price £137.50
39-611 SE-CR 60' BirdcageComposite Lavatory Coaches SR Olive Green. £64.95
Scalextrix Jaguar E Type with Union Jack body. £40.99
Hataka South African Paint set £17.99
Eduard 1/48 Isreali Spitfire ( ltd Edition) £38.99
14 Feb 2018  Hobbyboss 1/18 Focke-Wulf FW 190a-5 plastic kit. £99.99
Moebius 1/8 scale 1960's Batamn Figures.
Cat Women, Adam West as Batman are £34.99.  The Penguin at £44.99.  Each figure has a remarkable likness to the actor / actress.