Please telephone the shop to order any item that appears on the following list subject to availability.  We will dispatch telephone orders within 24 hours or advise accordingly. 
New Item now in Stock

More New Ideas from
LIFE COLOR

New Powder and Color sets for Algae and Lichen. Apply fixer fluid with a brush to the areas onto which you wish to stick the coloured powder. This can be done by dusting onto the Fixer or mixing the powder into the fixer. Repeated applications allow to obtain large volumes of vegetation. The Fixer fluid can be diluted with water. All Powders can be mixed to obtain a wider range of tones.
Algae set includes:
POW 05 Luxuriant Green - Powder
POW 06 Full-blown Green - Powder
POW 07 Blight Plant - Powder
POW 08 Dried Plant - Powder
FF 04 Gloss Yellow Green - Fixer Fluid
FF 03 Gloss Dirty Green - Fixer Fluid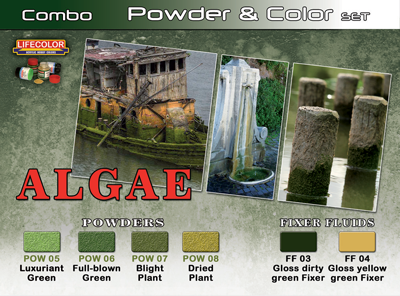 LIFECOLOR BOX SETS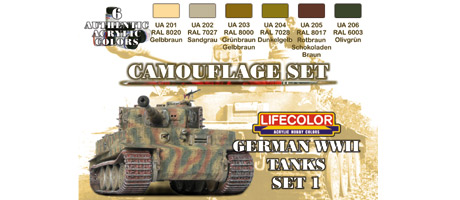 The most accurate way to finish your model, 'lifecolor' sets are matched to the exact paint shades used on the real vehicles.  When thinned these acrylics will airbrush beautifully laying down thin coats quickly, used with a conventional brush 'lifecolor' goes on thinly so no detail is lost but light colours will need the application of two coats. The thin consistency means brush marks are almost non-existent. The German set illustrated above has RAL colours, with the designation as used by the Reich Ministry when ordering the employment of colour schemes on German vehicles.  
German WWII Tank set 1 includes:
UA 201 Gelbbraun RAL 8020
UA 202 Sandgrau RAL 7027
UA 203 Grunbraun/Gelbbraun RAL 8000
UA 204 Dunkelgelb RAL 7028
UA 205 Rotbraun/Schokoladen Braun RAL 8017
UA 206 Olivgrun RAL 6003
Other sets use colours matched to FS numbers- Federal standard, the US paint colour designation.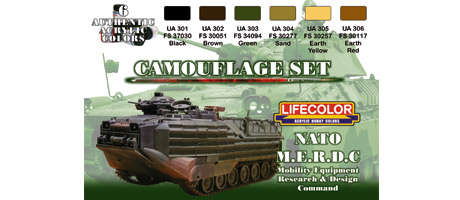 This set  is ideal for modern NATO vehicles and includes:
UA 301 Black FS 37030
UA 302 Brown FS 30051
UA 303 Green FS 34094
UA 304 Sand FS 30277
UA 305 Earth Yellow FS 30257
UA 306 Earth Red FS 30117
Other sets available in store and to Order. 
VALUE AIRBRUSH SET
I've always been cautious about low priced Airbrush set ups but after testing the EXPO set for a while and getting good results I am happy to offer these sets along side our IWATA items. For £79.95 you get everything you need except paint and thinner to get you started. Read a full review on Kitmaker Net by clicking the review link below.
TRACK CHORES.
Some modelers love assembling individual track links, others hate it and would rather replace with Vinyl.  SMC can offer help with both as we have an extensive range of both individual plastic replacement tracks and replacement Vinyl band track too.
GREAT NORTH ROADS

A recent article on Armorama focusing on the excellent Great North Roads (GNR) plaster diorama buildings that are stocked but SMC. These heavy items are available on line, but incur steep postage prices due to weight.


WE SELL WOODEN BASES, in various sizes, MDF and real wood, Varnished and plain. Don't Forget:-
LATEST ARRIVALS IN STORE

15 Feb 18  Bachmann 00:-
32-250a Austerity 2-8-0 'Major-General McMullen' LMR Blue.  RRP £159.95  out price £137.50
32-983 Class66 '66779 Evening Star' GBRf. RRP £159.95  out price £137.50
39-611 SE-CR 60' BirdcageComposite Lavatory Coaches SR Olive Green. £64.95
Scalextrix Jaguar E Type with Union Jack body. £40.99
Hataka South African Paint set £17.99
Eduard 1/48 Isreali Spitfire ( ltd Edition) £38.99
14 Feb 2018  Hobbyboss 1/18 Focke-Wulf FW 190a-5 plastic kit. £99.99
Moebius 1/8 scale 1960's Batamn Figures.
Cat Women, Adam West as Batman are £34.99.  The Penguin at £44.99.  Each figure has a remarkable likness to the actor / actress.
Summary of Kit arrivals from 1st Feb to 9th Feb.
Revell 1/24 Unimog Snow Plow £49.99
1/16 Trumpeter T-72 with ERA £187.99
Roden 1/32 O-2A Skymaster observation aircraft £59.99
Trumpeter 1/700 HMS Ark Royal 1939 fit £39.99
1/72 KV-85 Heavy Tank, JS-3 Soviet tank with 122mm gun, French M4 up-gunned Sherman.  All at £14.99 each.
1/35 Rooikat South African AFV £57.99
Takom 1/35 scale V2 with Hanomag SS100 tractor and Vidalwagen. £69.99
Airfix 1/72 New tooled B-25c/d Mitchell.  £24.99
Airfix 1/48 Fury £24.99
Academy 1/72 Super Etendard £12.99
Airfix 1/24 Mosquito DH FBVI. RRP £164.99  our price £134.99
Hasegawa 1/48 Seaking MkIII Falklands campaign £79.99
Kittyhawk 1/35 Little Bird AH6/MH6J. US Observation helicopter. £42.99
1/24 Ebbro McLaren Honda F1 2015 £48.99
Pegasus 28mm City Ruins in Plastic. £22.99
30 Jan Bachmann 00 Catalouge £8.95. Graham Farish Catalogue £7.95
16 Jan 18 Revell's latest innovation in kits, 'Technik'. Revell technology added to some of their most impresive construction kits. Electrical components which can be lights and/ or motors with pre-programmed control units that are installed during building to give realistic effects.
In store now 1/32 JU88-A4 with lights and sound £159.00
63950 F14 1/100 model set £16.99
Airfix 1/72 Phantom FR1. New Tool £24.49
Meng 1/35 Panther AusfA £44.99
Zimmerit Sheets for Meng Panther, various patterns £9.99
Hasegawa Mitsubishi F1M2 Type Zero float Bi-plane observation aircraft. 1/48 £34.99
08 Dec 17 New Dapol 00 Locomotives in store.
DA4D-022-008 DRS early service Livery, Class 68 'Astute' RRP £145.00  Our Price £129.00
DA4D-011-004 Streamlined Railcar 8 GWR Twin Cities Chocolate and cream RRP £145.00 Our Price £129.00
DA4D-011-003 Streamlined Railcar W14 BR Lined Carmine and Cream RRP £145.00 our price £129.00
DA4D-011-000 Sreamlined Railcar 11 Lined Chocolate and Cream GWR Monogram. RRP £145.00 our price £129.00
New TAMIYA kit release:- ARCHER Anti-tank SPG 1/35 £47.99
Italeri 1/24 Police Transit Van £29.99
01 Dec 17 New items from Revell, 03944 P-51D-5NA Mustang 1/32 £36.99
03921 A-26B Invader 1/48 £36.99
03923 Mosquito Bomber £29.99
Bachmann 00 38-575a 10 Ton Fish Van in LNER Brown. £16.95
Graham Farish N gauge 377-490 Triple Pack: China Clay Wagons GWR Grey. £48.95
28 Nov 17 Bachmann's 00 60ft Birdcages in SE&CR in Southern Railway Olive Green livery are in store  at £64.95 (a number of Bircages in BR Crimson are still available at a slightly lower price due to a more simplified livery)
39-601 Brake 3rd Lavatory.
39-621 Brake 3rd.
Airfix Avro Shackleton AEW.2 £44.99
SR 58ft Maunsell rebuilt (ex LSWR) coaches all at £47.99
New line- 28mm MALIFAUX.  Very ltest figures in store as well as small amount of starter sets.  We will develop our stock if interest is shown.
WYR20138- The Jury £11.99
WYR20245- Asura Rotan £16.99
WYR20349- Kandara £16.99
WYR20440- Grootslang £23.99
WYR20538- Midnight Stalker £8.99
WYR20641- Wrastlers £16.99
Re-stock of Metal Gun barrels from RB.
New Gripping beast 28mm 'Dark age Cavalry' £22.00
04 Nov 17 A small batch of N Gauge Graham Farish ' A Day at the Races' has become available. Complete set with 3x BR Mk1 Horse Boxes, 3MT 2-6-2 loco Contoller and Oval of track with siding.  RRP £189.95  Our Price £170.95
Italeri Architecture series. Statue of Liberty £16.99 17cm high
Eduard Profipack 1/48 Model. BF108 with 5 choices of scheme £22.50
Modelcollect kits:-  1/72 M983A2 HEMMT with M870A1 Semi trailer. £37.99
1/72 Russian 'Bal-E' Coastal Missile system on MZKT chassis. £38.99
Zvezda £29.99 'Iskander-M' SS-26 'Stone' Russian Ballistic Missile System. 1/72
28 Oct 17 Riarossi HO 4 car Italian train. ETR450 'Pendolino' in red and white livery RRP £392.99 our price £334.00
Hornby TTS Digital sound, R3385TTS Black 5 in BR early colours '45116' RRP 199.99. Our price £179.99